Indigenous brands, Maori business, Kaupapa Growth and innovation, collaborative pilot projects, culture connection and exchange, design enabled economic, culturally enriched.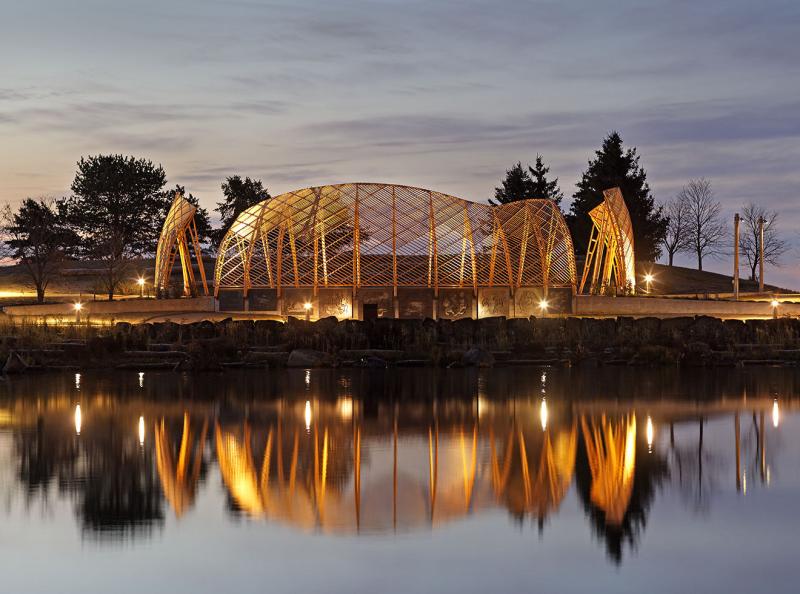 Spirit Garden
Cultural landscape at public waterfront as part of a masterplan and subsequent redevelopment.
Click on thumbnails to enlarge
Location:
Thunder Bay, Ontario
Nga Aho practitioner:
Ryan Gorrie
Spirit Garden
The Spirit Garden is a headland extending into Lake Superior and is one component of a larger revitalized public park. The Gathering Circle is the main structure within the Spirit Garden, and gives expression to the deep cultural and historic roots that link Aboriginal peoples to the Lake Superior shoreline. Its design reflects an adaptation of a traditional Aboriginal bentwood building technique, using modest means of construction and sustainable building practice. Young spruce trees were harvested in the spring by a local Aboriginal craftsman and were bent and lashed to create twenty arched, truss-like column supports. The trusses were then mounted along the circumference of the circular platform and layered with a pattern of curved cedar strips creating a semi-enclosed shroud. The platform is a circular drum-shaped concrete retaining wall that also provides seating for viewers into the circle. Four radiating tentacles emanate from the drum into the undulating landscape. The pattern echoes imagery associated with Anishinabe woodland art. The design was created as a collaboration between Brook McIlroy and Aboriginal intern architect/artist, Ryan Gorrie from Thunder Bay. The outer wall of the drum is lined with ten weathering steel laser-cut panels designed by local Aboriginal artist Randy Thomas. The Gathering Circle tucks into the south hillside providing a natural amphitheater configuration. Large ash tree logs drape across the hillside – recycled from a nearby park. The eighty-foot diameter Gathering Circle provides the City's residents and visitors with an event space for ceremonies, blessings, music, story telling, theatre and gatherings. A main pedestrian path connects with the Circle's archway entrance at the cardinal east and west points inviting visitors in, while a circular footpath circulates between the twenty bentwood arches. The shroud is a 'light-catcher'– a patterned surface of overlapping, divergent planes that enables views through its wooden frame onto the adjacent waterfront as well as the City's downtown. By night, a network of soft lighting highlights the curving, luminous shell form that can be seen from many vantage points throughout the City. The bentwood shroud transforms depending on the season and time of day - reflective of the profound beauty and spiritual resonance of Lake Superior's north shore.