Indigenous brands, Maori business, Kaupapa Growth and innovation, collaborative pilot projects, culture connection and exchange, design enabled economic, culturally enriched.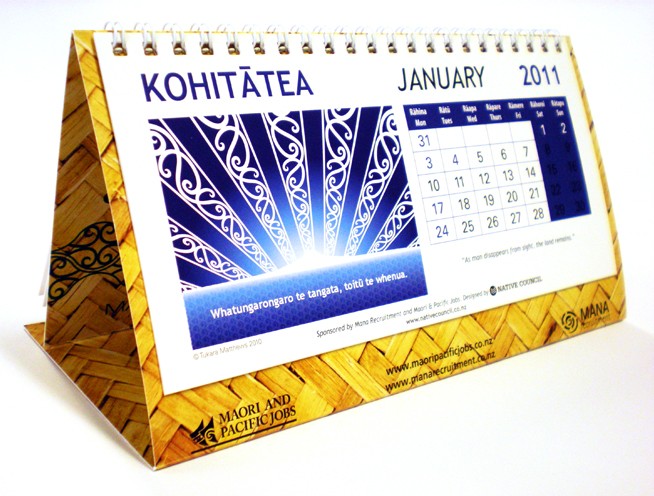 Matariki Calendars
Each year, Native Council design and produce the Matariki Calendar for Mana Recruitment and the Māori Pacific Job Board, celebrating the Māori New Year. The Matariki Calendar consists of illustrated whakatauki or proverbs across each month and lately the illustrations and their respective whakatauki in a year have followed a consistent theme. It is something that clients look forward to receiving each year.
Click on thumbnails to enlarge
Location:
Nationwide
Iwi:
Non-specific
Nga Aho practitioner:
Tukara Matthews
Matariki Calendars
This project include the following Art/Design disciplines; Graphic Design - Layout of design elements, bilingual calendar and whakatauki text around illustration. - Developing systems to identify important calendar dates which are all listed on the calendar cover. Illustration -Conceptual drawing and research in creating illustrations based on various whakatauki (Maori proverbs) -Vector based illustrations allowing space for whakatauki and the name of the specific manu. Packaging Design In the original brief, the calendar needed to be able to sit unassisted on a desktop or table to be easily viewed and fit comfortably into a DLE-sized envelope for postage. To achieve this I created a simple folding cover that inserts back into itself forming an a-frame. The cover works in a similar manner to a horizontal gatefold brochure when close to protect the calendar pages inside. Over the years the design has been modified slightly to allow for greater strength and durability. - Custom package research and design with dieline.