Jamie Boynton
BDes
Pae Matua
Arawa / Mataatua Project Management and Strategy, Art, Design
Ngāi Tūhoe + Te Whakatōhea
Jamie Boynton is one of New Zealand's leading Contemporary Māori Artists. He has over twenty years experience in the fields of business, Art, Education and Design, and has received many awards for his art. Known for his attention to detail, and innovative application of tools and technology, Jamie develops stunning work that draws upon Maori cultural perspectives as a foundation for creativity and innovation.

Jamie actively engages in sustainable practices such as carbon offsetting (tree planting), and recycling. His artistic style reflects his desire to use art as a vehicle to influence positive social change, by re-igniting the wisdom of our ancestors, in a way that inspires future generations.

Jamie has a Bachelor of Design Degree from the School of Visual Communications and Design in Wellington. Working from his indigenous homelands in the Bay of Plenty, he enjoys providing creative direction, to a variety of organisations, marketing social change, and creating 'iconic' contemporary New Zealand art and design.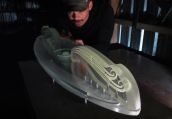 Nga Aho is not responsible for members own content. Please contact us if you have any comments on the material here.