Michelle Mihi Keita Tibble
Post Grad Business
Pae Tahi
Tamaki Makaurau Project Management and Strategy, Art
Ngāti Porou + Te Arawa
Currently employed as the Community Engagement Manager Tamaki Regeneration Company. Key role is stakeholder engagement including mana whenua as a Treaty partner and what that means within the regeneration space as part of our long term housing, peacemaking, economic and social transformation objectives.
Key work at present is embedding the Te Aranga Design principles within our programme and co designing with mana whenua the process and protocols. Having taken over from HNZ in April 2016, we are based in Glen Innes and Panmure having taken over 2800 state homes in April 2016.
Also a poet, writer and photographer combining narratives and technology with a extensive background in planning funding, health and social services, community development, strategic planning and organisational performance.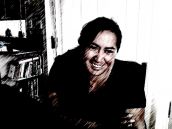 Nga Aho is not responsible for members own content. Please contact us if you have any comments on the material here.