Damian Powley
BLA
Pae Matua
Tamaki Makaurau Landscape Architecture
Ngāi tai
Ko Tainui te waka
Ko Wainui te awa
Ko Parepaupau te maunga
Ko Ngaitai te iwi
Ko Torere arua te hapu
Ko Damian toku ingoa

I am a Landscape Architect and Project Manager working with Isthmua. I feel lucky and blessed to enjoy the fruits of my work and see this translate into the wider community.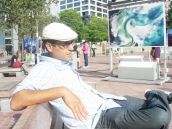 Nga Aho is not responsible for members own content. Please contact us if you have any comments on the material here.