Lucy Tukua
Dip Landscape Design
Pae Matua
Tamaki Makaurau Project Management and Strategy, Environmental Planning and Management, Design
Ngāti Whanaunga + Ngāti Pāoa
Ngati Tahinga, Ngati Paoa, Ngati Whanaunga - Dip Landscape Design based in Tamaki Makaurau:

Process/Project Management and Strategy, Environmental Planning and Management, Design.

Passionately active in the progress and development of a number of Iwi. Currently self employed contracted through Iwi to local government Forums/Committees, Secretariat for the Counties Manukau DHB's Mana Whenua Forum. Key convenor role establishing the Tamaki Regional Mana Whenua Forum now representative of fourteen Iwi. Supporting the Forum now as technical officer acting upon regional policy and issues. Previously a Ngati Tahinga trustee and chair, now managing their property portfolio. Definitely a 'hui queen' by choice.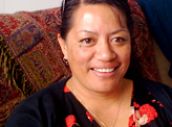 Nga Aho is not responsible for members own content. Please contact us if you have any comments on the material here.