Brendan Himona
Barch
Pae Matua
Tainui Architecture
Ngāi Tūhoe
Originally from Waikaremoana, I moved to Auckland to pursue my passion for architecture. After graduating from Unitec in 2005, I worked for Leuschke Group Architects, RTA Studio and Studio Pacific Architects, developing my design expertise across New Zealand's two major urban centres with a primary focus on community projects such as Motat Aviation Museum.

Since starting at Jasmax in 2010, my most notable project has been Tūhoe Te Uru Taumatua. This project challenged me to design according to the utmost standards of sustainability, whilst simultaneously ensuring complete loyalty to our iwi's unique cultural identity. The Tūhoe Building has been a resounding success, and gained a purple pin for the Ngā Aho award at the respected Designers Institute of New Zealand ceremony 2014.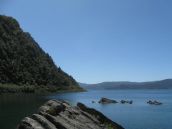 Nga Aho is not responsible for members own content. Please contact us if you have any comments on the material here.