Shaun Komene
BLA
Pae Tahi
Taranaki / Whanganui / Manawatu Landscape Architecture
Ngāpuhi
Tihei Mauri Ora. I have just finished my degree in Bachelor of landscape Architecture and now reside in the Wairarapa completing a Certificate in Carpentry.

I am a Father of three, husband of one!

I think we as Maori Landscape Architects have an opportunity, perhaps an obligation to reengage our people with the land through the processes of design.

Unfortunately there are very little of us in this profession (I was the the only one in my class!) in comparison to other design professions, and so therefore should have a stronger urge to be bolder, and gain much knowledge to ensure that indigenous design is incorporated in 'main stream' professions.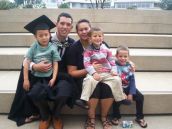 Nga Aho is not responsible for members own content. Please contact us if you have any comments on the material here.